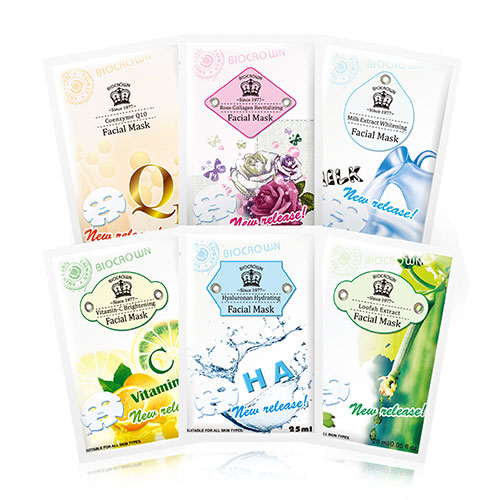 BIOCROWN Essence Facial Mask
Beauty Facial Masks find Distributor
Beauty Facial Masks are seeking international distributor and agents partners to create beauty business.

Biocrown Brand's Comments for Agents and Distributor
1. Participating all of Biocrown Beauty Facial Mask promoting evens for Agents and Distributor .
2. Support Catalogue in the target market for Agents and Distributor.
3. Support Target market's advertising promotion activities for Agents and Distributor.
4. Anneal Biocrown Beauty Facial Masks products award for Agents and Distributor
5. Assist oversea agents and distributor to obtain target market's import license.
6. Agents and Distributors have Products' Warranty
7. Free to obtain all of Biocrown Brand products' information 8. We are constantly developing new ranges and product lines.
---
Features
BIOCROWN Hyaluronan Hydrating Facial Mask: Hyaluronan is famous for its capability of hydrating effect. This is the one of the best choices for dry skin. After using, the skin can feel deep hydrating.
BIOCROWN Milk Protein Softening Facial Mask: With Milk Protein,it works wonders by promoting hydration, re-activating your skin's metabolism and preventing pigment deposition.
BIOCROWN Vitamin-C Revitalizing Facial Mask: Vitamin-C is the finest ingredient for making skin brightening. With continuous using, the skin would become brightening
BIOCROWN Rose Collagen Elasticizing Facial Mask: Contains the Bogarian Rose Extract, known as the Queen in the moisturizing realm. Together with collagen, this mask tackles issues like dryness and fine lines.
BIOCROWN Q10 Firming Facial Mask: With Q10 and other special essences in this formulation, it moisturizes and tightens, providing firming, anti-aging and deep hydrating functions.
BIOCROWN Loofah Extract Moisturzing Facial Mask: Specially selected natural Luffa Extract moisturizes and relaxes skin.
Full Catalog 2022
Get the full list of our products into your inbox.

Download
Contact Us Now
Email or Call BIOCROWN
886-4-24952117
Thank You.
More Details
BIOCROWN Essence Facial Mask | Body Care | Face Care | Skin Care Products Manufacturer - BIOCROWN
Biocrown Biotechnology Co., Ltd., since 1977, is a BIOCROWN Essence Facial Mask manufacturer based in Taiwan.
ISO 22716:2008 and GMP certified, as well as meeting COSMOS & US Federal 209D standards, skin care product manufacturing from BIOCROWN. BIOCROWN's skin care product services include formulation and package design, cleanroom and RO water system process, filling and sealing machine production, etc. With large selections of organic and natural ingredients, your skin care products can be tailored to meet the beauty market trends. Skin care products such as bio-cellulose sheet mask with 72% moisture retaining on skin, essence oil with 900 and bar soap with 1,200 formulations.
BIOCROWN has been offering customers pure and natural skin care products with various designs of formulations. Both with advanced technology and 47 years of experience, BIOCROWN ensures each customer's demands are met.
View our quality products
Sheet Mask
,
Sunscreen
,
Exfoliating Gel
,
Eye Gel
,
Facial Cleansing Powder
,
Facial Wash
,
Hair Treatment
,
Lip Care
,
Makeup Removing Liquid
,
Renewal Eyelash Enhancer
,
UV-CUT Spray
,
Feminine Care
,
Oral Care
and feel free to
Contact Us
.