Wrinkle Correcting Essence Oil Capsule
XEA1001
Adding a variety of herbal essences to form a strong protective barrier for the skin and lock in moisture; hydrophilic oil has a soft and smooth texture while non-greasy, it can increase the extensibility of foundation when make-up, glides seamlessly onto the skin, leaving a long-wear foundation. It can instantly reduce the aging look, activate and rejuvenate the skin, recuperate the skin from inside, comprehensively resist skin aging, rejuvenate the youth, and revitalize the amazing flawless skin.
Contains with botanic fat, that repairs your skin for a firmer, smoother look and fewer wrinkles. Leaves skin burden-free sensation. Nourishing and Revitalizing Capsule contained within a capsule to ensure freshness. Also very convenient for travelling use.
Benefits
Smooth and tender the skin
Create a deep infiltration to the skin
Firming pores
Bring the skin elasticity
Revitalize the skin regeneration
Reduce the fine lines and wrinkles
The best skin care product for Anti-Aging - Wrinkle Correcting Essence Oil Capsule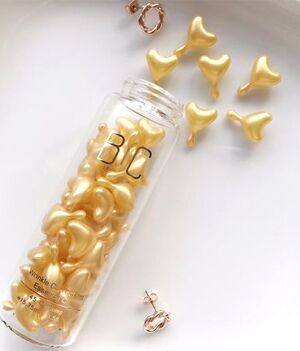 Wrinkle Correcting Essence Oil Capsule is the ultimate essence oil for your skin care business when choosing an anti-aging product. The formulation of the essential oil is designed to have and instant effect on your skin; it penetrates with a concentrated dosage of oil to nourish your skin. It is perfect for the skin care market because users get instant results. The added ingredients prove our dedication to manufacture high-quality and reliable skin care products in order to make your cosmetic and beauty business profitable.
Wrinkle Correcting Essence Oil Capsule is designed to perform the best on your skin; Ingredient of Wrinkle Correcting Essence Oil Capsule formulation is developed by BIOCROWN RD Team. The Capsule provides hydrated and renewed skin within seconds due to its lab tested formula. Your skin is nourished and replenished with silk-like touch; oil is absorbed leaving no oily skin. Especially for guys who dislike that greasy layer on the skin, this skin care product is the best.
Formulation of Wrinkle Correcting Essence Oil Capsule - Hydrating and Anti-Aging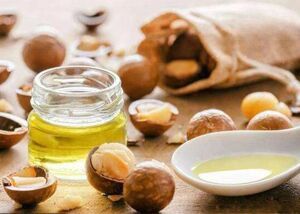 Sweet Almond Oil is anti-aging, it moisturizes your skin, helps to balance the secretion of oily on oily skin, prevents and heals wounds, not grease and, is non-greasy skin barrier
Bisabolol protects and heals the skin from the effects of daily stress. It is a naturally occurring active ingredient that accelerates the healing process of sin. Bisabolol can be used with confidence in personal care formulations, especially in products for sensitive skin, baby care, after-shave, and after-sun applications. Its added anti-inflammatory properties make it a truly versatile active ingredient for skin care products.
Best for Regenerative skin
Pure swertiamarin is an ingredient in the Wrinkle Correcting Essence Oil Capsule with many therapeutic properties, including wound healing. Therefore, it helps in producing skin's natural oil barrier and keeping skin hydrated, which is important to prevent fine lines.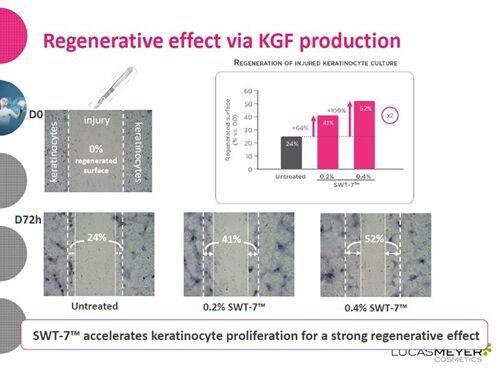 Proven efficiency
Crambisol is a unique ingredient which allows the elaboration of formulations with an original skin feel associated to a proven efficiency. Developed by CRM International, Crambisol is a new intelligent, efficient, conditioning agent, with a unique skin feel when introduced in formulations. Crambisol combines and accentuates the positive effect of Crambe Oil with the bio-active effects of Phytosterols. Crambisol is elaborated by a green process which respects the environment. There are many benefits for Crambisol, such as extreme comfort. Cosmetics including Crambisol will be first felt as smooth and luscious, like a caress on the skin. Crambisol creates a delicate film which ensures maximum comfort and suppleness for the skin. Furthermore, Skin Rejuvenation, Crambisol in formulations leaves a protective veil like a second skin. The result induces a genuinely natural look with a non-greasy and non-sticky after-feel. After using cosmetics including Crambisol, the skin is immediately relaxed and smoothed with a lasting effect. Also, Velvet feel, Crambisol confers to cosmetics the ability to promote skin wellbeing and to improve skin texture. Crambisol in formulations gives a unique velvet skin touch like a peach skin, which makes it unique.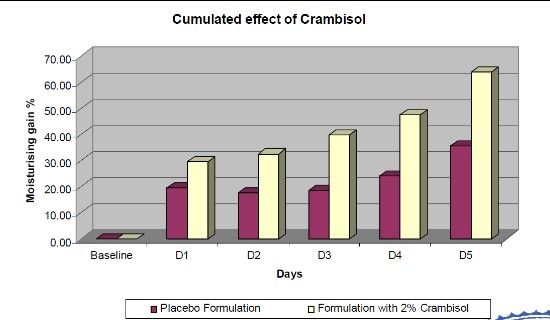 Results of 5 day study
How to Use
1.Gently twist the tab around twice and squeeze onto your fingertips.
2.Smooth over cleansed face and neck, gently massage until it is absorbed.
CUSTOMIZED SERVICE
According to customer's demands to design and develop, such as scent, appearance, types, etc.
According to customer's different functional demands to add different active ingredients.
Customers could provide their own packaging materials or design, otherwise, can ask us to help purchase or design as well.
Lead Time: About 20~25 working days, after received deposit and all packaging materials are ready and get into our manufacturer.
MOQ: the minimum order of yellow heart shape is 1000pcs for per pack.(For our ready to go formula)
MOQ: the minimum order of customized capsule is 150,000pcs.(Customized for any new formula or shape, as shown above)
Our Advantage
Certification: GMP, MSDS, SGS, ISO 9001:2008; ISO 22716:2007
Provide customized service: Tailor-made for you
Provide professional OEM,OBM,ODM service around the world with best price,good quality and large quantities.
Strict quality and safety control- Packaging material QC, Raw material QC, Purified Water QC, Semi-finished products QC, Finished products QC, Packaging QC.
Full Catalog 2021
Get the full list of our products into your inbox.

Download
Contact Us Now
Email or Call BIOCROWN
886-4-24952117
Thank You.
More Details
Wrinkle Correcting Essence Oil Capsule | Body Care | Face Care | Skin Care Products Manufacturer - BIOCROWN
Biocrown Biotechnology Co., Ltd., since 1977, is a Wrinkle Correcting Essence Oil Capsule manufacturer based in Taiwan.
ISO 22716:2008 and GMP certified, as well as meeting COSMOS & US Federal 209D standards, skin care product manufacturing from BIOCROWN. BIOCROWN's skin care product services include formulation and package design, cleanroom and RO water system process, filling and sealing machine production, etc. With large selections of organic and natural ingredients, your skin care products can be tailored to meet the beauty market trends. Skin care products such as bio-cellulose sheet mask with 72% moisture retaining on skin, essence oil with 900 and bar soap with 1,200 formulations.
BIOCROWN has been offering customers pure and natural skin care products with various designs of formulations. Both with advanced technology and 45 years of experience, BIOCROWN ensures each customer's demands are met.
View our quality products
Cream
,
Fiber
,
Foam
,
Lotion
,
Mask
,
Sunscreen
,
Toner
,
Essence
,
Exfoliating Gel
,
Eye Gel
,
Facial Cleansing Powder
,
Facial Wash
,
Hair Treatment
,
Lip Care
,
Makeup Removing Liquid
,
Renewal Eyelash Enhancer
,
UV-CUT Spray
and feel free to
Contact Us
.