Congratulation! HALAL Certificate obtained
1. BIOCROWN Hydro 3D Biocellulose sheet mask.
2.BIOCROWN BRIGHTENING Nourishing Facial Cream
3.BIOCROWN Wrinkle Correcting Essence Oil. Welcome ask us.
---
15 Dec, 2019
In 2019, Biocrown Biotechnology's brand has received the HALAL Certificate. Biocrown aims to continue making high-quality and effective cosmetics for the ASEAN market.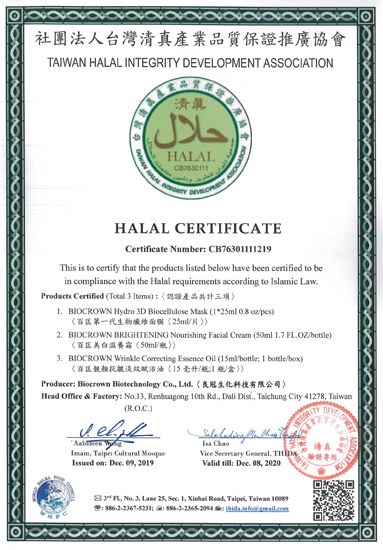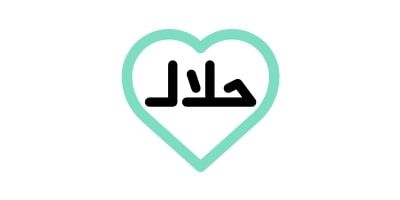 HALAL CERTIFIED COSMETICS
Recently, there has been a growing demand for halal products within the beauty industry. A product is halal certified when it has been produced, manufactured and composed of ingredients that are acceptable under Islamic law.
This means that the product doesn't contain any ingredients from pigs or carnivores, and any animal slaughtering must be done by hand while a prayer is recited. Given an idea of a healthy, organic and cruelty-free product. Halal cosmetics are produced without any animal test.
Not only ingredients but also packaging and communication of the product must be following the dictates of Islamic law.
Halal cosmetics products: not only for Muslim consumers
Gallerys
Full Catalog 2021
Get the full list of our products into your inbox.

Download
Body Care | Face Care | Skin Care Products Manufacturer - BIOCROWN
Biocrown Biotechnology Co., Ltd., since 1977, is a prime skin care, body care and face care products manufacturer based in Taiwan.
ISO 22716:2008 and GMP certified, as well as meeting COSMOS & US Federal 209D standards, skin care product manufacturing from BIOCROWN. BIOCROWN's skin care product services include formulation and package design, cleanroom and RO water system process, filling and sealing machine production, etc. With large selections of organic and natural ingredients, your skin care products can be tailored to meet the beauty market trends. Skin care products such as bio-cellulose sheet mask with 72% moisture retaining on skin, essence oil with 900 and bar soap with 1,200 formulations.
BIOCROWN has been offering customers pure and natural skin care products with various designs of formulations. Both with advanced technology and 45 years of experience, BIOCROWN ensures each customer's demands are met.
View our quality products
Cream
,
Fiber
,
Foam
,
Lotion
,
Mask
,
Sunscreen
,
Toner
,
Essence
,
Exfoliating Gel
,
Eye Gel
,
Facial Cleansing Powder
,
Facial Wash
,
Hair Treatment
,
Lip Care
,
Makeup Removing Liquid
,
Renewal Eyelash Enhancer
,
UV-CUT Spray
and feel free to
Contact Us
.