Awards & Certification
With standardized operating procedures to improve and maintain production quality
BIOCROWN upholds the mission of showing respect for the skin and pamper the skin with rigorous production.
Thus, BIOCROWN aims to acquire various safety quality certificates as following:
Voluntary Cosmetics GMP Certificate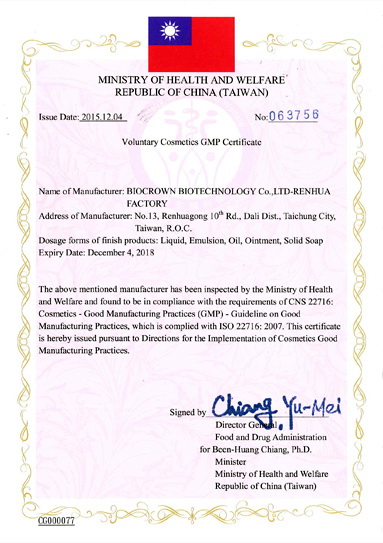 We are emphasize on every product's manufacturing quality and strictly following Good Manufacturing Practice' s regulations.
ISO 22716:2007 Certificate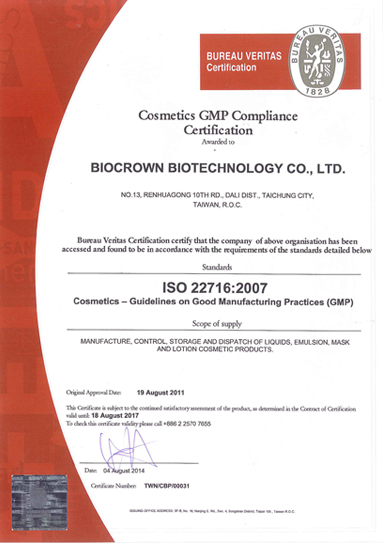 ISO 22716:2007 is mainly focuses on management of the plant. Under this guideline's regulations, it ensure every product's manufacturing environment, process, storage and delivery are under strictly control with Standard Operating Procedures.
ISO 9001:2008 Certificate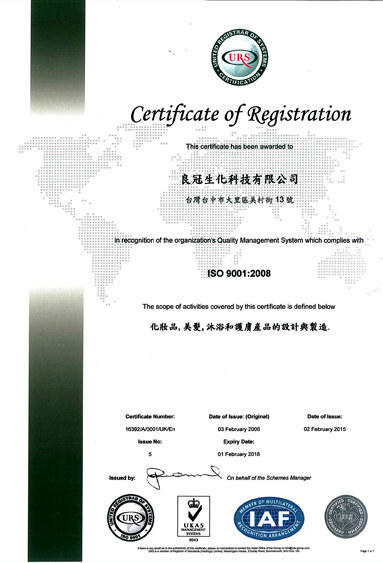 Under ISO9001:2008, it ensures the quality management system of the plant while it requires a related product or program has to meet its statutory and regulatory requirements. In addition, with ISO 9001:2008, it help to upgrade our company's operation system and increase our competitiveness through improver our company performance in customer focus, leadership, involvement of people, process approach, system approach to management, continual improvement, fact based decision-making, and mutually beneficial supplier relationships.
ECOCERT Greenlife SAS Certificate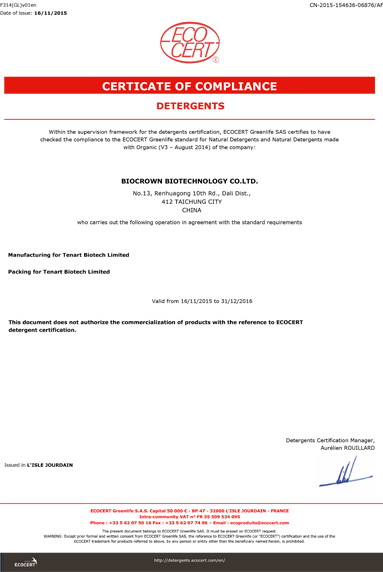 Ecocert (ECO) is EU organic certification body, is the well-known for organic certification indicators and it is the most representative & authoritative certification body. This certificate can proof us with capability and experience for manufacturing organic products to our clients according to their requirements.
ISO 14067 Certificates:
Greenhouse Gases--- Carbon Footprint of Products---Requirements and Guidelines for Quantification and Communication
For our next generation and sustainable development for our environment, we chose less environmental load package and make our effort to reduce carbon emissions of products. Through ISO 14067 certificate's carbon footprint analysis, it not only to provide the carton emission measurement criteria , and also prove our committed to reducing the impact of day-to-day operations on the environment.
Certificates