Congratulation!Our Bio-cellulose sheet mask obtained EU PIF!
---
06 Nov, 2018
In October 2018, Biocrown Biotechnology's own brand has received the world's highest standard of recognition for cosmetics by receiving the European Union PIF Product Information Certificate. Biocrown aims to continue making high-quality, effective formula, MIT (Made in Taiwan) face masks, and will support agents for marketing within the European market.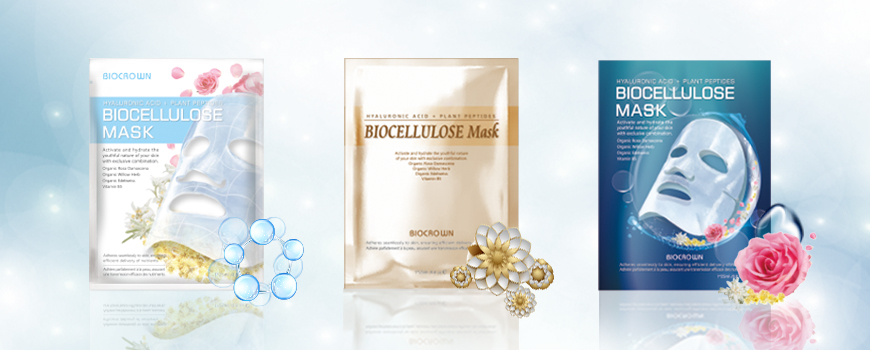 Hyaluronic acid | Organic Rose water | Organic Willow Herb | Organic Edelweiss | Vitamin B5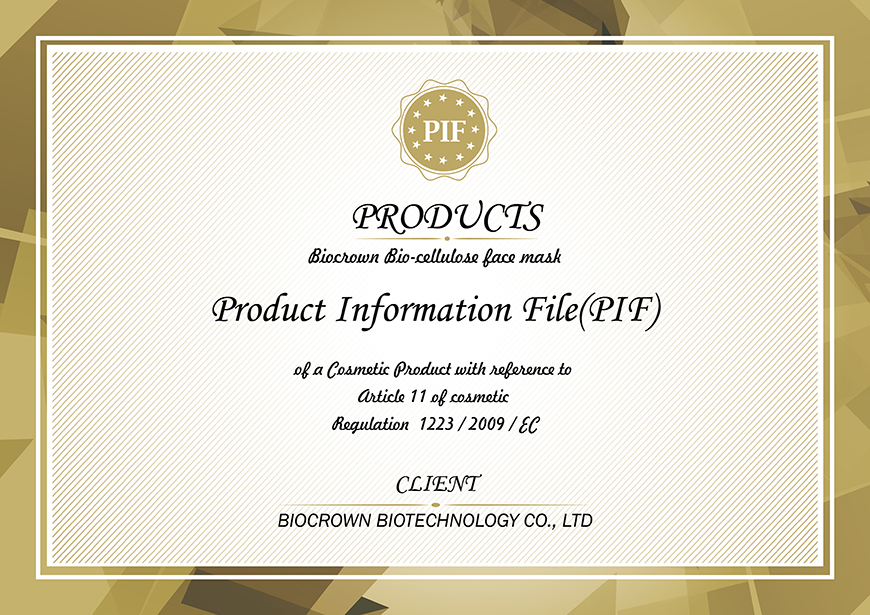 The world's highest cosmetics specification – European Union's New Regulation for Cosmetics (EC), announced that the products which sold in Europe have to apply the PIF (Product Information File), and provide the inquires at any time. The information file includes the product, manufacturer and responsible person's information. The European Union PIF's applying specification highly presented the EU's attention on the security check of cosmetics products to provide the European consumers a quality assurance for high quality facial masks at the same time.
Full Catalog 2023
Get the full list of our products into your inbox.
Download
Congratulation!Our Bio-cellulose sheet mask obtained EU PIF! | Private Label Hair, Body & Skin Care Products Manufacturer | Biocrown Biotechnology Co., Ltd.
Located in Taiwan since 1977, Biocrown Biotechnology Co., Ltd. has been a skin care, body care and face care products manufacturer. Their main cosmetics and skin care products, include skin care products, facial sheet masks, color matching facial creams, brightening soaps, anti-aging creams, natural and organic skin care products, eye creams, collagen lifting face creams, skin concealers, body scrubs, feminine care and oral care, which are HALAL, EU PIF, GMP and ISO/TS 14067:2013 certified.
BIOCROWN is one of the prime skin care products manufacturers since 1977. ISO 22716:2008, ISO 14001:2015, GMP certified, BSCI and meeting COSMOS/ECOCERT & US Federal 209D standards skin care products manufacturing. The skin care product services, including formulation design, cleanroom, RO water system, filling and sealing machine production, product packaging design, etc. Biocrown focuses on developing skin care products. We follow ISO22716 and Good Manufacturing Practices (GMP) Standards; upholds a strict attitude to satisfy customer expectations. With more than 47 years of manufacturing skin care experience and through rigorous certification of various safety qualities, Biocrown Biotechnology Co., Ltd is the professional Cosmetic and Skincare Products Manufacturer. We provide multi-beauty solutions for our clients.
BIOCROWN has been offering customers high-quality skin care, body care and face care products, both with advanced technology and 47 years of experience, BIOCROWN ensures each customer's demands are met.