---
Baby Wash
XEE0301
This mild and tear-free formula gently cleanses while helping to nourish, soften, protect skin from dryness, and relieves baby's uncomfortableness. Provides baby with a clean, soft feeling all over when used every day.
ATTENTION WHEN CHOOSING BABY SKIN CARE PRODUCTS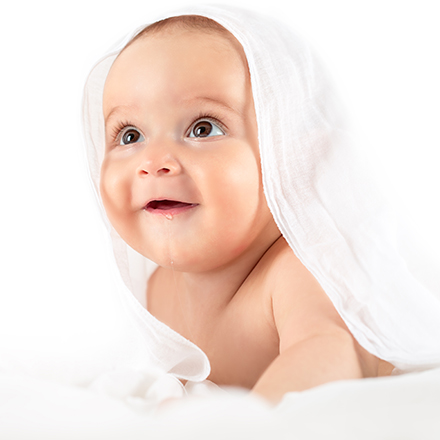 1.Baby's skin
Baby's skin may look perfect, but it is very delicate and needs special care throughout the first years of life.
Compared to adult's skin:
✪30%thinner
✪Loses moisture faster
✪More prone to irritation
2.Suitable with the baby's skin condition
Baby products should use mild cleansers and should protect the natural balance of baby's skin while maintaining its outer, protective layer. Perfume, soap and alcohol, often found in adult products, can all irritate baby's skin or may even cause an allergic reaction.
3.Caring for Baby's Scalp
Our shampoo is kind and gentle on sensitive scalps, skin and eyes. The product is extremely mild but offers an effective cleansing, leaving baby's hair silky soft and shiny, and also suitable for cradle cap.
4.4 guaranteed ingredients specifically selected for the Baby Care market:
✪AQUALANCE™ and NG SHEA Unsaponifiable™: Moisturise the skin and reinforce the lipid barrier to reduce the drying effects on baby's skin.
✪VENUCEANE™: Protects the fragile baby's skin against environmental stress.
✪HAIRSPA™: Balances the delicate scalp of babies.
How to Use
1.Take the proper amount into hand and apply to baby's body, working into a gentle lather.
2.Rinse carefully with warm water.
CUSTOMIZED SERVICE
According to customer's demands to design and develop, such as scent, appearance, types, etc.
According to customer's different functional demands to add different active ingredients, such as: Hyaluronic Acid, Tranexamic Acid, Vitamin C, Ceramides, Peptides, Collagen, Q10, Snail extract , Aloe Vera, etc.
Customers could provide their own packaging materials or design, otherwise, can ask us to help purchase or design as well.
Lead Time: About 20~25 working days, after received deposit and all packaging materials are ready and get into our manufacturer.
Our Advantage
Certification: GMP, MSDS, SGS, ISO 9001:2008; ISO 22716:2007
Provide customized service: Tailor-made for you
Provide professional OEM,OBM,ODM service around the world with best price,good quality and large quantities.
Strict quality and safety control- Packaging material QC, Raw material QC, Purified Water QC, Semi-finished products QC, Finished products QC, Packaging QC.