Baby Shampoo Manufacturing
XEE0401
Baby Shampoo is gentle to the eyes as pure water. Gently cleans and nourishes baby's hair and skin. Contains Chamomile Extract which can sooth skin.
ATTENTION WHEN CHOOSING BABY SKIN CARE PRODUCTS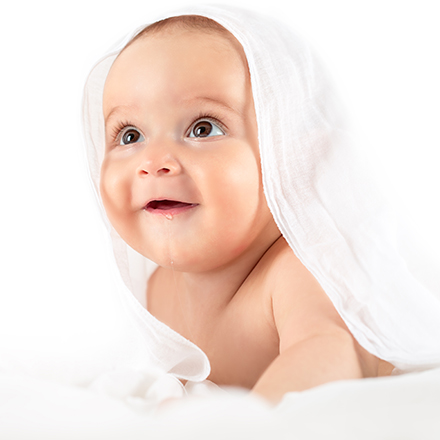 1.Baby's skin
Baby's skin may look perfect, but it is very delicate and needs special care throughout the first years of life.
Compared to adult's skin:
●30%thinner
●Loses moisture faster
●More prone to irritation
2.Suitable with the baby's skin condition
Baby products should use mild cleansers and should protect the natural balance of baby's skin while maintaining its outer, protective layer. Perfume, soap and alcohol, often found in adult products, can all irritate baby's skin or may even cause an allergic reaction.
3.Caring for Baby's Scalp
Our shampoo is kind and gentle on sensitive scalps, skin and eyes. The product is extremely mild but offers an effective cleansing, leaving baby's hair silky soft and shiny, and also suitable for cradle cap.
4.4 guaranteed ingredients specifically selected for the Baby Care market:
●AQUALANCE™ and NG SHEA Unsaponifiable™: Moisturise the skin and reinforce the lipid barrier to reduce the drying effects on baby's skin.
●VENUCEANE™: Protects the fragile baby's skin against environmental stress.
●HAIRSPA™: Balances the delicate scalp of babies.
How to Use
Take the proper amount into hand and apply to baby's hair, working into a gentle lather.
Rinse carefully with warm water.
Customized Service
Minimum order quantity: 600kgs per items
Comprehensive Private Label Service: Customized formula, flavor, package design is available.
With our design team, provide bottle or packaging design according to private label's requirement.
Lead time: after order is confirmed, down payment is paid, packing materials are ready in our factory, products will be sent out within 20 to 25 working days.
Our Advantage
Certification: GMP, MSDS, SGS, ISO 9001:2008; ISO 22716:2007; ISO 14001
Provide customized service: Tailor-made for you
Provide professional OEM,OBM,ODM service around the world with best price,good quality and large quantities.
Strict quality and safety control- Packaging material QC, Raw material QC, Purified Water QC, Semi-finished products QC, Finished products QC, Packaging QC.
Full Catalog 2023
Get the full list of our products into your inbox.
Download
Contact Us Now
Email or Call BIOCROWN
886-4-24952117
Thank You.
More Details
Baby Shampoo Manufacturing - Private label of Baby Shampoo | Private Label Hair, Body & Skin Care Products Manufacturer | Biocrown Biotechnology Co., Ltd.
Located in Taiwan since 1977, Biocrown Biotechnology Co., Ltd. has been a skin care, body care and face care products manufacturer. Their main cosmetics and skin care products, include Baby Shampoo Manufacturing, skin care products, facial sheet masks, color matching facial creams, brightening soaps, anti-aging creams, natural and organic skin care products, eye creams, collagen lifting face creams, skin concealers, body scrubs, feminine care and oral care, which are HALAL, EU PIF, GMP and ISO/TS 14067:2013 certified.
BIOCROWN is one of the prime skin care products manufacturers since 1977. ISO 22716:2008, ISO 14001:2015, GMP certified, BSCI and meeting COSMOS/ECOCERT & US Federal 209D standards skin care products manufacturing. The skin care product services, including formulation design, cleanroom, RO water system, filling and sealing machine production, product packaging design, etc. Biocrown focuses on developing skin care products. We follow ISO22716 and Good Manufacturing Practices (GMP) Standards; upholds a strict attitude to satisfy customer expectations. With more than 47 years of manufacturing skin care experience and through rigorous certification of various safety qualities, Biocrown Biotechnology Co., Ltd is the professional Cosmetic and Skincare Products Manufacturer. We provide multi-beauty solutions for our clients.
BIOCROWN has been offering customers high-quality skin care, body care and face care products, both with advanced technology and 47 years of experience, BIOCROWN ensures each customer's demands are met.