---
Cushion Foundation
XEH0302
The Cushion Foundation creates a smooth, radiant, and long-lasting canvas for a polished look by powerful a capability that protects skin from makeup and environmental pollution with few samples using steps.
Cushion Foundation - A Trendy Cosmetic Product in the Beauty Market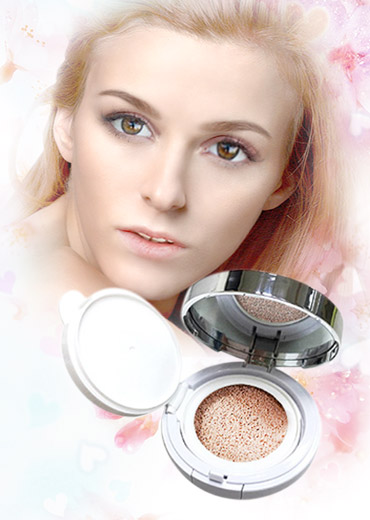 cushion foundation compacts have become a huge beauty staple lately
Cushion foundation is a cushion compact that is popular in the cosmetic market. The trend started in South Korea, and it is designed to brighten, moisturize, give a dewy finish, and look very transparent on the skin. Cushion foundations work well with dry skin, since it is basically a tinted bb cream, again from Korea, that has been placed in a compact form. Cushion cream hydrates skin, gives a luminous glow and can be formulated with sunscreen (SPF). Almost every beauty brand sells cushion compact, without it, you are missing on the trend.
BIOCROWN - Cushion Foundation Silicone Touch Sponge Pad Design
The cushion foundation is an easy to carry compact case, which contains a makeup sponge, a mirror and cream type foundation. The cream-based cushion foundation gives you long hours of wear and suits your skin tone with selections of cream colors. Cushion foundation consists of water and oil, you would use a touch sponge to apply foundation and pad gently onto the skin. To apply cream-based foundation evenly, which is important for getting a sheer look, BIOCROWN has developed silicone sponge makeup for better application. Silicone touch sponge provides professional and even coverage, therefore, there's no more patchy padding or uneven color on skin. In addition, the sponge applicator is easy to clean and prevents bacteria. Rather than using acrylic foam, silicone touch sponge is a total solution using flexible material.

BIOCROWN has developed cleaner and easier to use silicone touch sponge pad for better performance on your skin.
BIOCROWN - Foundation Makeup Cushion Manufacturer
As one of the premier skin care product manufacturers, BIOCROWN is a private label bulk cosmetic supplier that has been supplying custom-made foundation makeup for cosmetic companies. Whether the foundation makeup that is for different skin types, ages and textures, as well as product logos and packaging design, BIOCROWN provides one-stop production with professionalism. Our chemist would assist you to design a formula containing natural and unique ingredients, which allows you to stay competitive in the beauty market. We collaborate with suppliers for natural and dewy ingredients from around the world with approved certification. If you are looking for a makeup manufacturer, look no further than BIOCROWN.
BIOCROWN Foundation Makeup Packaging Design for Your Cosmetic Market
Ingredient and packaging designs are the two major components of a foundation makeup, and the texture of foundation depends on the formulation. BIOCROWN offers customers dynamic selections of all services ranging from ingredient and logo to final packaging design. You can create various foundation makeup products meeting customer requirements based on the beauty market. For instance, cushion compacts are popular; the packaging design is the key. When you press the cushion section using cotton sponge to get the foundation out of the case, the silica made cushion picks up the proper amount. It is designed with circular or rectangular compact cases and the mirror in it makes the whole thing easy to carry around. The brush is replaced with puff pads. Along with the case packaging, squeeze tube and glass bottle are available as well.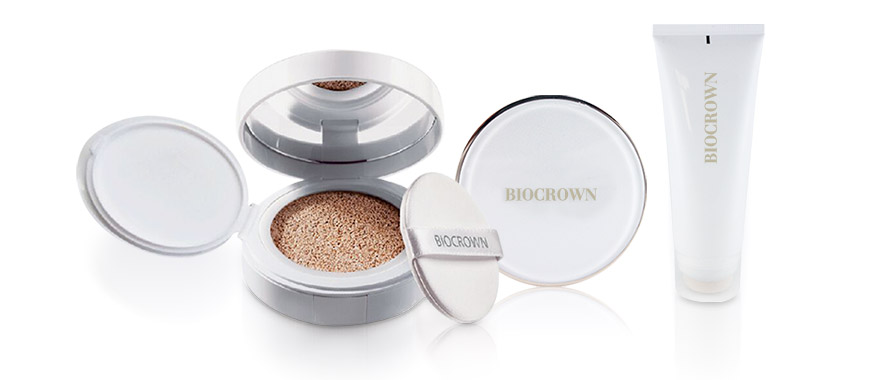 BIOCROWN provides custom-made cushion foundation mass production, the process including formulation, logo and packaging designs.
BIOCROWN Foundation Makeup Ingredient Designs for Your Cosmetic Market
BIOCROWN has designed over 240 foundation formulations. The formulation of foundation leaves a dewy finish and looks very transparent on your skin. Whether it is water-based or oil-based foundation makeup, breathable formula or natural-looking foundations, BIOCROWN's product development team offers dynamic formulation designs. Cream foundation, fluid foundation, powder foundation and concealer foundation are optional, each performs differently on skin types and issues - normal, dry, oily, acne-prone, sensitive and combination. The texture can be liquid, cream, cream to powder, pressed powder, mineral powder and cushion type. Foundation makeup's functionality is selectable; it can be enriched with Vitamins A, C, E, moisturizing and protecting formula, long lasting or combined with UVA & UVB protection. The color shade of foundation makeup can change your skin tone, therefore, all colors, including light, pure, medium, cream beige, creamy nature, sable, earthy, dark cocoa, are provided.
In addition, BIOCROWN's medication licensing allows our clients to sell flawless foundation with sun protection approval. And our cosmetic product and production process is GMP, MSDS, SGS, ISO 9001:2008, and ISO 22716:2007 certified.

BIOCROWN has designed foundations with selective colors to match your skin color, they are UVA and UVB protective and contain vitamins and moisture formula.
BIOCROWN - Foundation Makeup Production Process
BIOCROWN owns a skin care product production plant with multiple lines equipped with high-end equipment and cleanroom for efficient and non-contamination production. The test lab, RO water and air conditioning system are installed for skin care product's quality assurance. For foundation makeup manufacturing, the first set of ingredients (water, GLYCOSYL TREHALOSE, HYDROGENATED STARCH HYDROLYSATE, GLYCERIN, PROPANEDIOL and CHLORPHENESIN) are heated to 80 degrees, and then mixed with the other set of ingredients (CETEARYL OLIVATE, SORBITAN OLIVATE, MYRISTYL MYRISTATE, CAPRYLIC/CAPRIC TRIGLYCERIDE and SQUALANE), which is also heated to 80 degrees, and then stirred for 30 minutes. Later, the temperature is lowered to 35 degrees and all the extract and oils that are needed are added in. Once the procedure is done and passes all the tests at the lab, it is stored and ready for packaging. During the process, on-site Inspection and off-site monitoring is conducted regularly to ascertain that the standards are compliant with regulations to meet international specifications in various countries.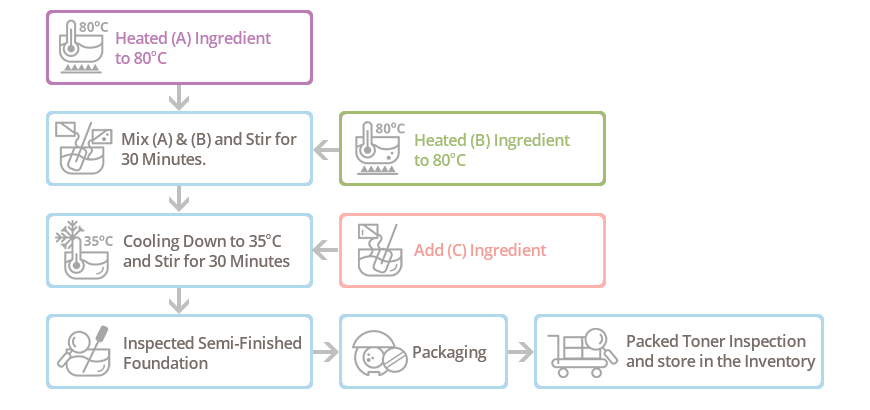 The making process of foundation
---
CUSTOMIZED SERVICE
According to customer's demands to design and develop, such as scent, appearance, types, etc.
According to customer's different functional demands to add different active ingredients, such as: Hyaluronic Acid, Tranexamic Acid, Vitamin C, Ceramides, Peptides, Collagen, Q10, Snail extract , Aloe Vera, etc.
Customers could provide their own packaging materials or design, otherwise, can ask us to help purchase or design as well.
Lead Time: About 20~25 working days, after received deposit and all packaging materials are ready and get into our manufacturer.
Our Advantage
Certification: GMP, MSDS, SGS, ISO 9001:2008; ISO 22716:2007
Provide customized service: Tailor-made for you
Provide professional OEM,OBM,ODM service around the world with best price,good quality and large quantities.
Strict quality and safety control- Packaging material QC, Raw material QC, Purified Water QC, Semi-finished products QC, Finished products QC, Packaging QC.
Photo